Expressing Yourself with Custom Concrete Countertops
---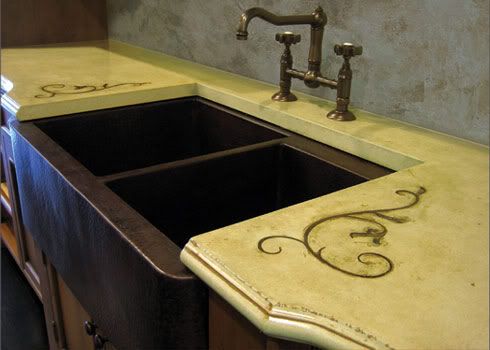 Kitchen countertops are among the top five home remodeling projects only coming in second to the most coveted home remodeling project; kitchen cabinet replacements.
As of 2009 and going into 2010, many upscale homeowners are beginning to express themselves with concrete countertops.
Concrete countertops add a custom touch to any kitchen surface. And since the kitchen is the center of culinary creativity, many homeowners have begun to move away from the manufactured look of laminated materials. They are now choosing materials that are unique and timeless.
The latest trend in countertops is concrete countertops. Homeowners around the nation are discovering that this substance can be customized into a distinctive surface that expresses their individuality, design preference and cooking style.
Custom concrete countertops give a look of distinction. Each top is custom designed; there are no cookie-cutter creations like other countertop choices on the market.
Here are a few of the options you have with concrete countertops:
* Curves and angles.
* Custom colors to match your kitchen design.
* Add glass chips, fiber-optic lighting, personal mementos, and more.
* Integrating built-ins such as sinks, soap dishes, drain boards, and trivets are extremely easy and in many cases are also made from concrete.
Because of the craftsmanship and time that goes into building concrete countertops, the price tag can be a hefty one. It depends on the square foot of space involved and what part of the nation you live. Like any other custom made product, they command premium prices.
The quality of the outcome is completely dependent upon the skill level and craftsmanship of the maker. So, choose your concrete contractor wisely with careful research.