Working on a few new projects
---
When I'm not working on standard stocked soaps/products, I'm researching, formulating, or maybe even out wildcrafting herbs. Right now I'm harvesting wild-mullein from the sides of country roads. You may see it growing somewhere in Paulding County -- if you do, PM me with where you saw it!
These are things that I learned about that my Grandmother Mary would have done. Fortunately there is quite a bit of herbal information, folklore, etc. that have survived in the south. I so enjoy chatting with other people who have an interest in herbs, plants, trees -- their properties and uses.
Here's what mullein looks like -- so keep your eyes open!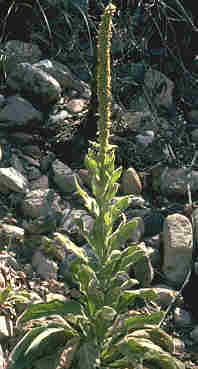 Another project I'm currently working on right now is a FABULOUS Scrub & Mask. It's in the testing phase right now. It combines wonderful things for the skin like several types of clay, buttermilk, cucumber, oats, and specific essential oils (and much, much more!).
I've been using mine when I soak in the tub... pour a little into my palm, add some water to it making a paste, then applying to my face as a scrub. You then leave it (if you choose) and allow it to dry like a mask. Rinse and viola! Your skin is left feeling extra smooth, and clean. I find for combo to oily skin that this scrub/mask works wonders! I follow up with a good facial moisturizer, and I'm good to go. Look for it in my online store in the next few months.