This was posted at a local shelter's Facebook page on behalf of a woman who just arrived from SC and found her Aunt extremely allergic to pets:
URGENT! Short Term Foster Needed for Himmy-Lynx (declawed)
(location: Douglasville/Poweder Springs line)
~FORWARDED Message from Tabby~
I have a cat, Miss Kitty (but he's a boy!) that I have had since he was 2 months old. He is now 15, and I had to move down from SC to my aunt's house while looking for employment. My aunt is severely allergic, and had to put her own 3 cats outside due to the severity of her last attack -- which almost landed her in the hospital.
Miss Kitty is staying at my boyfriend's house until this Sunday, when I have to go pick him up. If I cannot find a temporary foster by then, he will have to be put outside with my aunt's cats, and I don't think he would survive that. He is declawed and has always been indoors and taken care of. He's my baby and it would kill me to have to do that!
I have a job interview on Tuesday and I am certain that I will get the job. I would only need a few months to get enough money together for my own apartment. This is only a temporary situation!
Miss Kitty is neutered, declawed, has his shots, and was combo tested. I have all his records. Please help me find him a short term foster situation.
Thank you!
Tabatha Miller
770-843-9923
(best contact method)
tabbymiller77@gmail.com
(at gmail.com)
Pics: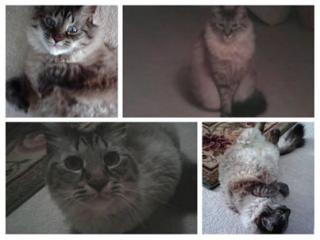 Edited by AustinPlantation, 16 February 2014 - 09:45 AM.