Hi folks:
Paulding.com allows both signatures ... those sayings and also photos at the bottom of an individual's message ... and avatars.
Fortunately, avatars have a 'hard limit' set in the software ... 150 pixels by 100 pixels wide ... but the signatures, which can be called from your own server ... can include images that are user defined.
We've had some folks post signature images that destroy our tables (wider than 600 pixels) that mess up the way the page views.
We've also had some folks post images that were full-sized photos or even sign type images that were 400 or even 600 pixels tall.
for that reason, we request that no signature image exceed 500 pixels WIDE or 200 pixels tall. This doesn't mean that the 'official size' of a signature is this size ... I ENCOURAGE SMALLER ... like 100 x 500 or 200 x 200 ... these are plenty big ... but the combination of images or the maximum dimensions may not exceed these limits.
There is another limit ... 50,000 bytes (50kb) ... which just shows a little consideration for those with dial up.
here is an graphic showing the maxium size by height and width.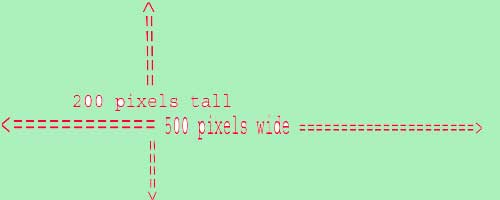 Over the past six months, I believe I've posted fewer than a dozen folks regarding this type of issue but as Barney Fife would say, we just want to nip this in the bud.
FYI: I know a lot of folks will just wonder what a pixel is and won't know how to find out. There is a trick, though. If it looks like it might be too big, right mouse-click on the image and it will tell you its size in pixels and bytes.
Regardless, it is not a big deal if you get a PM asking you down-size your sig. No one is mad at you or picking on you; we're just trying to keep things from getting out of hand.
pubby