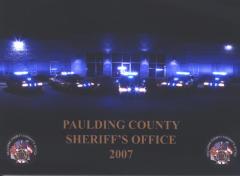 The following public information release was sent to the local media on July 10, 2008. I am posting here for those that may have missed it.
(DALLAS, GA)
The Paulding County Sheriff's Office is dedicated to providing the professional services that the citizens and visitors of Paulding County have come to expect. According to the U.S. Census Bureau, Paulding County is ranked as the 15th largest county in Georgia with a population estimate of 127,906 (as of July 1, 2007). With a population of this size, there are challenges that are faced and overcome each and every day by the dedicated men and women of the Paulding County Sheriff's Office. Currently, the Paulding County Sheriff's Office has 267 employees.
The following information represents the stats of the Paulding County Sheriff's Office for the first 6 months of 2008:
• Calls for Service 38,122
• Miles Patrolled 1,506,239
• Traffic Citations 5,629
• Arrest 2,352
• Accidents (private property and roadway) 1,302
• Burglary reports 433
• Pursuits (vehicle and on foot) 20
• Domestic Disputes 1,119
• DUI arrest 360
• Motorist assisted 817
• Prisoner pick-ups 1,043
• Check the Welfare calls 451
• Zone Patrols 331
I hope that the citizens of Paulding County find this information both helpful and informative in understanding the basic operations and crime fighting efforts made by the men and women that represent the Paulding County Sheriff's Office.
*********